The Renault Sport R.S. 01 is a Renault DeZir-based race car used for the one-make Renault Sport Trophy racing series.
Description
Text originally from the Renault Sport website
Renault is restating its passion for motor sports with the Renault Sport R.S. 01, a racing car of spectacular styling and exceptional performance. With a design inspired by the world of concept cars and governed by an absolute pursuit of aerodynamic downforce, Renault Sport R.S. 01 is a radical expression of the brand's sporting DNA. Its technical specifications reflect the best of Renault Sport expertise. With a carbon monocoque chassis for a weight of approximatively 1,120 kg and an engine developing 550 hp, it is able to reach a top speed of over 300 kph.
The Renault Sport R.S. 01's VR38DETT engine is sourced from the Nissan GT-R (R35), with power at 500 hp (373 kW) and torque at 680 ft·lb (922 N·m). The engine redlines at 6,800 rpm.
The Renault Sport R.S. 01 generates 2646 lb (1200 kg) of downforce at 186 mph (300 km/h).
Summary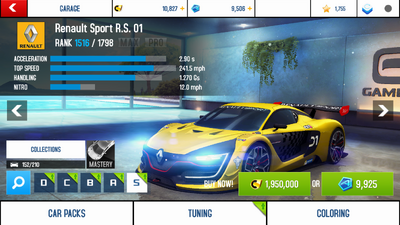 The Renault Sport R.S. 01 was added in the Santa's Gift Update with the following rank statistics:
The Renault Sport R.S. 01 rivals the Ferrari Enzo Ferrari, HTT Pléthore LC 750, Zenvo TS1 GT 10th Anniversary Edition, TRION NEMESIS, Icona Vulcano V12 Hybrid, Arash AF10, and Chevrolet 2016 Camaro SS.
Performance
The Renault Sport R.S. 01's acceleration is one of the car's main two downfalls; it only accelerates faster than the 2016 Camaro SS due to being lighter, but its low power output and weak nitro stat may contribute to its poor acceleration. Despite that, the Renault Sport's acceleration is not the worst compared to certain other cars.
Adding on to that, the R.S. 01's top speed eclipses many other cars in the game. In fact, just like the HTT Pléthore LC 750, the R.S. 01 excels at top speed. The R.S. 01 has a real total speed of 503.2 km/h/312.5 mph.
One major difference, though, is that the R.S. 01 has extreme handling and drifting, similar to the W Motors Fenyr SuperSport, but worse in that the R.S. 01 may wreck more often if driven with high steering sensitivity settings. It is expected that skidding and random wrecks may occur more often than not, so it's recommended to set the steering sensitivity lower than normal.
Despite this, the R.S. 01 can drift very well and is the second best car for Gate Drift races, behind the Arash AF10.
The Renault Sport R.S. 01, unfortunately, is also besieged by its biggest downfall: its poor nitro efficiency of 9/14/19. Combined with its poor acceleration, the R.S. 01 faces problems on tracks where nitro consumption management matters.
Usage
In the long run, the Renault Sport R.S. 01 is nothing but a collector's item as it has almost no use in events and multiplayer, especially with its slug-like acceleration and the fact that it has been superseded by cars better than it in every aspect, such as the Aston Martin Vulcan, Apollo Intensa Emozione and 2018 McLaren X2.  The only use it has is contributing to the Off the Charts collection.
Price
The Renault Sport R.S. 01 had an original buying price of
3,850,000; the Multiplayer League Update updated it to
3,500,000 or

16,625 and the Hot Wheels Update to
1,950,000 or

9,925. Upgrades cost
2,932,950 while Pro Kits require
1,713,275, 24 of each Class S Parts card, 64 V6 Engine cards, 32 Mid-Tech cards, and 24 Advanced Tech cards.