The Sbarro GT1 is a mid-engined concept supercar by Sbarro.
Summary
The Sbarro GT1 was added in the 2018 Summer Update as a high-end Class C car with the following rank statistics:
Starting rank: 1320
MAX rank: 1481 (+161)

This is exactly the same as the starting rank of the Lamborghini Veneno due to the identical top speed stats of 355.8 km/h / 221.0 mph and nitro stats of 25.7 km/h / 16.0 mph.

MAX+PRO rank: 1580 (+99)
Tuning Kit bonus: +35
Stock-to-MAX+PRO rank difference: 260
Upgrade rank percentages: 20/30/15/35
Nitro Efficiency: 7/12/17
Performance
The Sbarro GT1 can reach a maximum real speed of 419.6 km/h (260.6 mph) at MAX+PRO with Tuning Kit activated. The GT1's overall performance can be considered mediocre, as it has a slow acceleration and a very low nitro power, making it an unsuitable choice for races.
Usage
Due to its very high starting rank, the Sbarro GT1 is too dangerous to even be a good option for Multiplayer. Even for Time-Limited events, the car is never featured in the Top 100 leaderboards due to its speed being 9 km/h (5.6 mph) slower than the Sbarro Sparta. The Sbarro GT1 can basically be described as a Class C version of the Zenvo TS1 GT 10th Anniversary Edition, but with sharper handling and less unique nitro efficiency of 7/12/17.
The Sbarro GT1 is only a collector's item due to its lack of performance in Events and Multiplayer. In addition, the GT1's steep Pro Kits costs, especially with its requirement of 40 V8 Engines, means that resources should instead be spent on better cars like the Sbarro Sparta and Maserati Alfieri (for Class C vehicles) or the Chevrolet Corvette Grand Sport and Arrinera Hussarya GT (for efficient V8 Engine use).
The only meriting use of the GT1 is Car Mastery.
Main article: Car Mastery/Sbarro GT1
Price
Unlike other Sbarro cars in the game, the GT1 is unobtainable outside of its Championship event.
Upgrades for the Sbarro GT1 cost
1,245,425 or

8,500. Pro Kits require
656,600, 13 of each Class C Part cards, 12 Early & Initial Tech cards, 8 Mid-Tech cards, and 40 V8 Engines.
Championship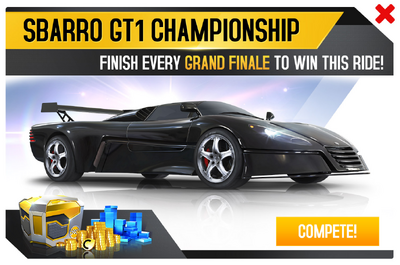 Main article: Championship/Sbarro GT1
The Sbarro GT1's Championship was launched on July 12, 2018. Players are given 4 days to start and 7 days to complete the event.