The Sbarro GT1 is a mid-engined concept supercar by Sbarro.
Summary
The Sbarro GT1 was added in the 2018 Summer Update as a high-end Class C car with the following rank statistics:
Starting rank: 1320
MAX rank: 1481

This is the starting rank of the Lamborghini Veneno due to the identical top speed stats of 355.8 km/h / 221.0 mph and nitro stats of 25.7 km/h / 16.0 mph.

MAX+PRO rank: 1580
Tuning Kit bonus: +35
Stock-to-MAX+PRO rank difference: 260
Upgrade rank percentages: 20/30/15/35
Nitro Efficiency: 7/12/17
Performance
The Sbarro GT1 can reach a maximum real speed of 419.6 km/h (260.6 mph) at MAX+PRO with Tuning Kit activated. Interestingly, its handling stat is decreased when the car is upgraded, due to it starting at 1.350 Gs, the highest starting handling stat for any car in the game.The GT1's overall performance can be considered mediocre, as it has a slow acceleration and a very low nitro power, making it an unsuitable choice for races.
Usage
Due to its very high starting rank, the Sbarro GT1 is not a good option for Multiplayer. Even for Time-Limited events, the car will not make it to the Top 100 leaderboards due to its speed being 9 km/h (5.6 mph) slower than the Sbarro Sparta. The Sbarro GT1 can basically be described as a Class C version of the Zenvo ST1, but with sharper handling.
Price
Upgrades for the Sbarro GT1 cost
1,245,425 or

8,500. Pro Kits require
656,600, 13 of each Class C Part cards, 12 Early & Initial Tech cards, 8 Mid-Tech cards and 40 V8 engine cards.
Championship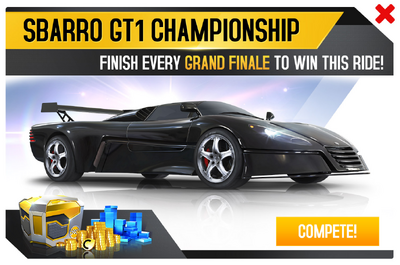 Main article: Championship/Sbarro GT1
The Sbarro GT1'S Championship was first held on July 12, 2018. Players are given 4 days to start and 7 days to complete the event.
Championship

McLaren Championship

McLaren M14A (Car • Event) • McLaren Mercedes MP4-25 (Car • Event)
McLaren MP4/8 (Car • Event) • McLaren MP4-31 (Car • Event)
2018 McLaren X2 (Car • Event)

Porsche Championship

Porsche Cayman GT4 (Car • Event) • Porsche 959 (Car • Event)
Porsche 718 Boxster S (Car •Event)
Porsche Carrera GT (Car •Event)

Munich Championship

Kawasaki Z800 (Bike • Event) • Arrinera Hussarya GT (Car • Event)
Honda Civic Type R (Car •Event)

Hot Wheels Championship

Hot Wheels Rip Rod™ (Car • Event)
Hot Wheels Bone Shaker™ (Car • Event)
Hot Wheels Twin Mill™ (Car •Event)

Renault Championship
Ariel Championship
Vanda Electrics Championship
Buick Championship
Apollo Championship
Vencer Championship
Kawasaki Championship
Sbarro Championship

Sbarro GT1 (Car • Event)

Rezvani Championship
SCG Championship
SCG 003S (Car • Event)