The Sbarro Sparta is an all-wheel-drive hybrid rally car that made its debut the 2014 Geneva Auto Show as an affordable production all-wheel-drive performance car.
Description
The Sbarro Sparta uses a mid-mounted Peugeot 1.6-liter four-cylinder engine, which drives the rear wheels with a six-speed manual gearbox, all while twin 100-kW electric motors (one for the front wheels, one at the rear) add up to a total output of around 407 horsepower. It has a gasoline powertrain and a tubular steel structure, with bodywork done in fiberglass. A sizable 24-kWh lithium-ion battery pack is mounted down low, and the total weight of the car is just 3080 lb (1397 kg). OZ racing rims and Michelin racing tires finish the look.
Summary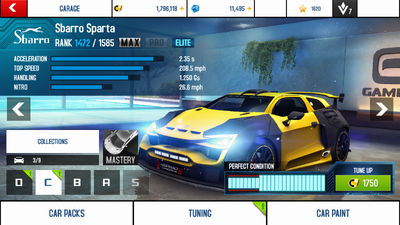 The Sbarro Sparta was added in the Car Blueprints Update as a high-end Class C car with the following rank statistics:
The Sparta rivals the Mercedes-Benz CLA 45 AMG Racing Series and Renault Alpine Celebration.
Performance
The Sbarro Sparta's performance is a combination of those of the Renault Alpine Celebration and Mercedes-Benz CLA 45 AMG Racing Series, combining traits from both cars.
The Sbarro Sparta has the same rate of acceleration as the Renault Alpine Celebration, but has a higher maximum total speed of 266.2 mph/428.6 km/h. The Sparta has superb nitro efficiency at 5/10/15, a carryover from the CLA 45 AMG Racing Series. The only disadvantage the Sparta has is its average drifting radius, which is sharper than that of the CLA 45 AMG but wider than that of the Alpine Celebration. The Sparta's steering capacity is acceptably sharp, on the other hand, assuming steering sensitivity is set to at least 92%.
Usage
The Sbarro Sparta now stands as the current best Class C car in general, replacing the Mercedes-Benz CLA 45 AMG Racing Series on tracks where the latter car was faster than the Alpine Celebration. In technical tracks like Sector 8, Venice, and Patagonia, the Sparta's above-average drifting means that the Alpine Celebration is still the best Class C car in Sector 8, which is currently the only track where the Alpine is better than the Sparta.
Therefore, in the majority of C Class events, the Sparta will dominate the top 100 positions.
On the other hand, much like the Vencer Sarthe, the Sparta is not suited for Multiplayer usage, though, owing to its high starting rank and, to an extent, Elite status which does not allow many races to be played at once.
As of the Fifth Anniversary Update, the Sbarro Sparta's reign over Class C has mostly ended due to the presence of the Maserati Alfieri, which features superior acceleration and a higher total speed by 0.4 mph/0.7 km/h, and the MV Agusta F4 1000 R, a top-end Class C motorcycle that is capable of going at least 25 mph (40 km/h) faster with Supercharged nitro. Unlike the Alfieri, however, the Sparta does not have restrictive availability, thus sparing the Sparta some usability for those who lack the Alfieri. In addition, the Sparta still features superior handling and drifting compared to the Alfieri, which comes in handy on short and/or technical tracks like Dubai, Sector 8, or Munich Subway.
Price
According to the in-game data, the Sbarro Sparta costs

4,750 when on sale, although it can be assembled after collecting 16 Sbarro Sparta BP cards. Assembly takes 5 hours to complete, but it can be skipped for a maximum of

289.
Upgrades costs
1,390,050 or

8,325 while Pro Kits require
708,050, 13 of each Class C Parts card, 8 Hybrid Engines, 10 Early & Initial Tech cards, and 4 Mid-Tech cards.
Tune-ups cost
1,750, take 1h 30 min to finish, and can be skipped for up to

180.
Availability
The Sbarro Sparta was made available from April 12, 2017 onwards as a Blueprints-unlockable car.
Worthiness
Being the C Class "king", the Sparta is dominant on almost all C Class TLEs, combined with the relative ease one can gather 16 of its Rare-rarity Blueprints. Because of this, the Sparta is extremely recommended for all players to get.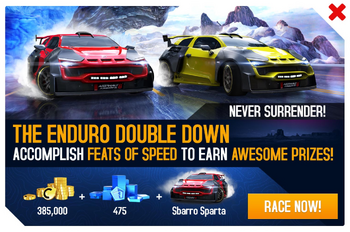 Main article: Enduro Double Down/Sbarro Sparta
The Sbarro Sparta Enduro Double Down was held on April 12, 2017, following the McLaren MP4-31's Championship event Players are given 9 days to win the car by banking

75,000. Bonus cars include the Savage Rivale Roadyacht GTS and Ferrari F50.
Enduro

Double Down
Event
Boss Vehicle
Other

Enduro Vehicles

Weber Faster One

Weber Faster One
SRT 2013 Dodge Challenger SRT8 • Jaguar F-Type R • Nissan Skyline GT-R (R34) • Honda Integra Type-R • Nissan GT-R NISMO • Lamborghini Aventador LP 700-4 • W Motors Lykan HyperSport • Chrysler ME412
Aston Martin One-77

Aston Martin One-77
AC 378 GT Z • Aston Martin DB9 Coupé • Aston Martin V12 Zagato • Aston Martin V12 Vantage • Lucra L148 • Bentley EXP10 Speed 6 • Pagani Huayra • Peugeot Onyx
BXR Bailey Blade GT1

BXR Bailey Blade GT1
Alfa Romeo MiTo GTA • Mazda 6 • Ford Focus RS • Mitsubishi Eclipse • Nissan GT-R (R35) • Holden Coupe 60 • Dodge Viper SRT10 ACR-X • Mazzanti Evantra
Icona Vulcano V12 Hybrid

Icona Vulcano V12 Hybrid
Lotus Exige S Coupe • Felino cB7 • BMW M6 • Mazda Furai • Marussia B2 • Mercedes-Benz SLS AMG GT Coupé Final Edition • Mercedes-Benz Silver Lightning • Hennessey Venom GT
Falcon F7

Falcon F7
Audi S4 • Mitsubishi Lancer Evolution X • Infiniti FX50 • Ferrari 612 Scaglietti • Ferrari 458 Italia • Arrinera Hussarya • McLaren 12C Spider • Savage Rivale GTR
1967 Chevrolet Impala (Canceled)
1967 Chevrolet Impala
Camaro Z/28 • BMW M1 • Ferrari Testarossa • Maserati MC12 • Savage Rivale Roadyacht GTS • Chevrolet Corvette C3 • RUF CTR 3 • 9FF GT9 VMAX
Lamborghini Aventador LP 750-4 SV

Lamborghini Aventador LP 750-4 SV
Lamborghini Urus • Lamborghini Miura • Lamborghini Gallardo LP 560-4 2013 • Lamborghini Estoque • Lamborghini Sesto Elemento • Lamborghini Asterion • Lamborghini Huracán • Lamborghini Egoista
Sbarro Sparta

Sbarro Sparta
DS 3 Racing • Nissan Juke Nismo • Mercedes-Benz GLC Coupe • BMW M2 • Audi R8 LMS Ultra • Ferrari F50 • Savage Rivale Roadyacht GTS • Sbarro Alcador
Chevrolet Corvette Grand Sport

Chevrolet Corvette Grand Sport
1967 Chevrolet Impala • Volkswagen Golf Design Vision GTI • Maserati MC12 • Chevrolet SS • Chevrolet Corvette C7 • Chevrolet Corvette C3 • Chevrolet 2016 Camaro SS • 9FF GT9 VMAX
Porsche 918 Spyder with Weissach Package

Porsche 918 Spyder with Weissach Package
Scion FR-S • Porsche 959 • Audi RS 3 Sportback • Porsche 718 Boxster S • DS Survolt • Porsche Cayman GT4 • Dodge Viper SRT10 ACR-X • Porsche 911 GT3 RS
Mercedes-Benz SLR McLaren 722 Edition

Mercedes-Benz SLR McLaren 722 Edition
Mini Cooper S Roadster • Alfa Romeo MiTo GTA • Chevrolet Camaro GS • Ford Focus RS • Maserati GranTurismo Sport • Ferrari 458 Italia • Cadillac CTS-V Coupe Race Car • Mercedes-Benz SL 65 AMG Black Series
Yamaha FZ-10

Yamaha FZ-10
Suzuki GSX-R750 • Kawasaki Z800 • KTM 1290 Super Duke R • Yamaha YZF-R6 • Ducati Monster 1200 • Ducati SuperSport S • BMW S 1000 RR • Suzuki Hayabusa
Zenvo ST1

Zenvo ST1
Geely GC9 • Donkervoort D8 GTO • Volkswagen Golf Design Vision GTI • Jaguar F-TYPE Project 7 • 2010 Bentley Continental Supersports • Ferrari F50 • Lamborghini Aventador LP 700-4 • Jaguar XJ220S

Italics denote reward vehicles obtainable from the event.