The Sbarro Sparta is an all-wheel-drive hybrid rally car that made its debut the 2014 Geneva Auto Show as an affordable production all-wheel-drive performance car.
Overview
Edit
The Sbarro Sparta uses a mid-mounted Peugeot 1.6-liter four-cylinder engine, which drives the rear wheels with a six-speed manual gearbox, all while twin 100-kW electric motors (one for the front wheels, one at the rear) add up to a total output of around 407 horsepower. It has a gasoline powertrain and a tubular steel structure, with bodywork done in fiberglass. A sizable 24-kWh lithium-ion battery pack is mounted down low, and the total weight of the car is just 3080 lb (1397 kg). OZ racing rims and Michelin racing tires finish the look.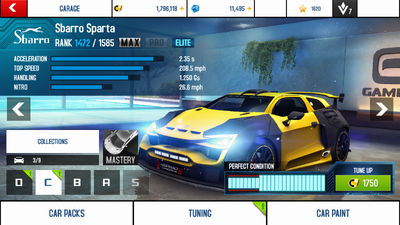 The Sbarro Sparta, a Class C car, was added in the Car Blueprints Update, and is unlockable via Enduro Double Down.
An Elite Car, the Sparta has a starting rank of 1296 (shared with the SIN R1), a MAX rank of 1472 (shared with the Mercedes-Benz CLA 45 AMG Racing Series), and a MAX+PRO rank of 1585 (PRO rank: +113). The Sparta gains +40 from Tuning Kits and rivals the CLA 45 AMG Racing Series and Renault Alpine Celebration. When its Elite mapping is tweaked at MAX+PRO, its rank decreases if tuned in favor of speed.
Performance Edit
The Sbarro Sparta's performance is a combination of those of the Renault Alpine Celebration and Mercedes-Benz CLA 45 AMG Racing Series, combining traits from both cars.
The Sbarro Sparta has the same rate of acceleration as the Renault Alpine Celebration, but has a higher maximum total speed of 266.2 mph/428.6 km/h. The Sparta has superb nitro efficiency at 5/10/15, a carryover from the CLA 45 AMG Racing Series. The only disadvantage the Sparta would have is its average drifting radius, which is sharper than that of the CLA 45 AMG but wider than that of the Alpine Celebration. The Sparta's steering capacity is acceptably sharp, on the other hand.
The Sbarro Sparta now stands as the current best Class C car in general, replacing the Mercedes-Benz CLA 45 AMG Racing Series on tracks where the latter car was considered better than the Alpine Celebration. In technical tracks like Sector 8, Venice, and Patagonia, the Sparta's above-average drifting means that the Alpine Celebration is still the best Class C car in Sector 8.
According to the in-game data, the Sbarro Sparta costs

4,750 when on sale, although it can be assembled after collecting 16 Sbarro Sparta BP cards. Assembly takes 5 hours to complete, but it can be skipped for a maximum of

289. The car costs
1,390,050 or

8,325 to max out and
708,050 for Pro Kits, which also require 13 of each Class C Parts card, 8 Hybrid Engines, 10 Initial Tech cards, 10 Early Tech cards, and 4 Mid-Tech cards.
Tune-ups cost
1,750, take 1h 30 min to finish, and can be skipped for up to

180.
Availability
Edit
The Sbarro Sparta was made available from April 12, 2017 onwards as a Blueprints-unlockable car.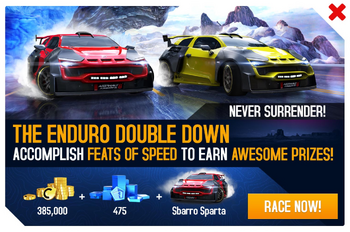 Main article: Enduro Double Down/Sbarro Sparta
The Sbarro Sparta Enduro Double Down was held on April 12, 2017, following the McLaren MP4-31's Championship event Players are given 9 days to win the car by banking

75,000. Bonus cars include the Savage Rivale Roadyacht GTS and Ferrari F50.
Ad blocker interference detected!
Wikia is a free-to-use site that makes money from advertising. We have a modified experience for viewers using ad blockers

Wikia is not accessible if you've made further modifications. Remove the custom ad blocker rule(s) and the page will load as expected.