The Scion FR-S is a Scion-badged version of the Toyota 86 and Subaru BRZ 2+2 sports coupe sold in the United States of America and Canada.
Overview
Edit
The Scion FR-S, exclusive to the United States and Canada, has its name derived from a description of its platform: Front-engine, Rear-wheel-drive, Sport. Originally, the FR-S had no trim levels and all FR-S variants were offered with Scion's BeSpoke stereo system.
The FR-S uses the Subaru FA20/Toyota 4U-GSE naturally aspirated 2.0L (1,998 cc) flat-four engine with Subaru's horizontally-opposed boxer engine design and Toyota's D-4S injection system, which uses both direct and port fuel injection. The FA20/4U-GSE produces 200 hp (149 kW) at 7,000 rpm and 151 ft·lb (205 N·m) at 6,000 rpm. As part of the 86's low-weight design, the car utilizes an aluminium hood, a solid roof, and a trunk. The 86, BRZ and FR-S are offered with two 6-speed transmissions, an in-house developed Toyota TL70 manual gearbox (based on Aisin AI's AZ6[26]) and an Aisin-Warner A960E, which is modified from that used on the Lexus IS 250. The automatic uses a traditional wet torque converter design, but its software has been engineered to mimic the response of a dual-clutch gearbox. The automatic transmission uses three different modes: Sport, Snow, and Normal. A torque sensing limited slip differential is standard on most models.
Scion estimates performance figures of 0-60 mph in 7.4 seconds, while a top speed of 145 mph (233 km/h) was tested.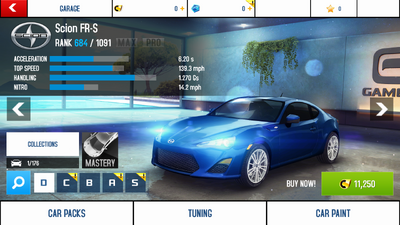 The Scion FR-S is an early Class D car, being one of the original 10. It was the 6th car in Class D and still is, but two non-car vehicles have since been placed before the FR-S, being the Ford F-150 (a pickup) and the Suzuki GSX-R750 (a motorcycle).
The FR-S has a low starting rank of 684, a MAX rank of 995, and a MAX+PRO rank of 1091. Following the trend of many early Class D cars, the FR-S receives a large boost of +68 from Tuning Kits, due to its low starting rank.
Performance Edit
The FR-S can be described as an all-rounder. It doesn't seem to fail in any particular aspect, though it's not the best in any particular aspect
The FR-S has an average top speed. If Multiplayer-tuned with only speed upgrades applied, it can become slightly superior to cars like the Audi RS 3 Sportback and Mercedes-Benz SLS AMG Electric Drive (at the same rank). However, otherwise, it's not overly impressive. One specific vehicle, the Ford F-150, has a total top speed that's 8 mph (12.9 km/h) higher than the FR-S without a Tuning Kit, and 8.8 mph (14.1 km/h) higher than the FR-S with a Tuning Kit. The F-150 has a final rank 20 points lower than the FR-S but a Tuning Kit bonus 27 points higher. The F-150 has superior speed to the FR-S because it possesses a much larger nitro statistic and a lower starting rank (it also possesses a lower MAX rank), although it also has a much lower raw top speed statistic and worse handling.
The FR-S has outstanding drifting but only a mediocre nitro efficiency of 7/13/17. For this reason, it is overshadowed by the Mini Cooper S Roadster, which is higher-ranked and similar to the FR-S stats-wise (apart from possessing poor drifting), giving it a higher top speed.
The FR-S has superior handling to most of the cars before it, but inferior handling to the Alfa Romeo MiTo GTA. The FR-S has a "triple-tap" launch speed (+Nitro Starter -Tuning Kit) of around 3 seconds, with decent acceleration.
Overall, the FR-S can be seen as an early Class D version of the Mazda RX-8, which is found near the end of Class D. Previously, the FR-S had the best balance between the drifting and nitro efficiency statistics when compared to the other early Class D cars, although it has since been dethroned by the DS 3 Racing.
The FR-S is one of the best starter's cars for Class D, alongside the Mini Cooper S Roadster. However, it is not fast enough to compete properly in Class D Time-Limited Events. For those, the "minimum" requirement is the Nissan 370Z, which can usually manage to reach time-goal cutoffs by a fraction of a second.
In Multiplayer, the FR-S is a poor choice unless the player has an unlimited supply of boosts. Compared to the other cheap Class D and Class C cars, the FR-S is above average.
Notably, the FR-S has a good "farming race" in Season 9, set in Dubai (Reverse). This is in contrast to the Mini Cooper S Roadster's farming race, which is set in Iceland, a much longer map. The superior farming race is perhaps the biggest advantage that the FR-S holds over the Mini Cooper S Roadster.
The FR-S doesn't belong to any collections but it has a Free Class D Upgrade as its fifth Mastery challenge reward. The FR-S is featured in the Career Mode.
As of the Car Blueprints Update, the FR-S costs
11,250 to purchase,
140,600 to MAX and
23,166 to PRO. The FR-S doesn't require any rare/legendary cards or Engines in its PRO upgrades, making it very easy to fully upgrade to MAX + PRO.
Originally, the FR-S costed
7,500 to purchase.
As of the Motorcycles Update the FR-S is unavailable for purchase due to licensing issues surrounding Toyota that have blocked racing game developers from using Toyota road cars in racing games released in 2017.
The FR-S was one of the Enduro cars that appeared in the Porsche 918 Spyder with Weissach Package's Enduro Double Down event.
See also
Edit
Ad blocker interference detected!
Wikia is a free-to-use site that makes money from advertising. We have a modified experience for viewers using ad blockers

Wikia is not accessible if you've made further modifications. Remove the custom ad blocker rule(s) and the page will load as expected.