The Scion FR-S is a Scion-badged version of the Toyota 86 2+2 sports coupe sold in the United States of America and Canada.
Overview
Edit
The Scion FR-S, exclusive to the United States and Canada, has its name derived from a description of its platform: Front-engine, Rear-wheel-drive, Sport. Originally, the FR-S had no trim levels and all FR-S variants were offered with Scion's BeSpoke stereo system.
The FR-S uses the Subaru FA20/Toyota 4U-GSE naturally aspirated 2.0L (1,998 cc) flat-four engine with Subaru's horizontally-opposed boxer engine design and Toyota's D-4S injection system, which uses both direct and port fuel injection. The FA20/4U-GSE produces 200 hp (149 kW) at 7,000 rpm and 151 ft·lb (205 N·m) at 6,000 rpm. As part of the 86's low-weight design, the car utilizes an aluminium hood, a solid roof, and a trunk. The 86, BRZ and FR-S are offered with two 6-speed transmissions, an in-house developed Toyota TL70 manual gearbox (based on Aisin AI's AZ6[26]) and an Aisin-Warner A960E, which is modified from that used on the Lexus IS 250. The automatic uses a traditional wet torque converter design, but its software has been engineered to mimic the response of a dual-clutch gearbox. The automatic transmission uses three different modes: Sport, Snow, and Normal. A torque sensing limited slip differential is standard on most models.
Scion estimates performance figures of 0-60 mph in 7.4 seconds, while a top speed of 145 mph (233 km/h) was tested.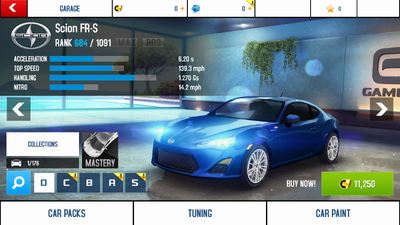 The Scion FR-S is one of the 10 original Class D cars, with a starting rank of 684, a MAX rank of 995, and a MAX+PRO rank of 1091. The FR-S receives +68 from Tuning Kits.
The Scion FR-S basically acts as a stat upgrade to the Cadillac XTS, but with better acceleration and greatly improved handling due to the FR-S being much lighter, although the FR-S does have a small likelihood of skidding out of control and/or wrecking (if in the hands of an unskilled user). Its high top speed stat, on the other hand, gives it the edge over most similarly-ranked Class D cars.
As of the Car Blueprints Update, the Scion FR-S costs
11,250 to purchase,
140,600 to max out, and
23,166 for Pro Kits, which also require 3 of each Class D Parts card and 2 of each Common Tech card (Initial Tech, Early Tech). Originally, the FR-S cost
7,500 to purchase.
The Scion FR-S, in summary, is a decent car to buy with well-balanced stats across the board. In Multiplayer, while appearing to be competitive, it stands no chance against the Renault DeZir and Range Rover Evoque Coupe HSE Dynamic. Currently, the FR-S appears in no collections. It's one of the Enduro cars that appears in the Porsche 918 Spyder with Weissach Package's Enduro Double Down event.
See also
Edit
Ad blocker interference detected!
Wikia is a free-to-use site that makes money from advertising. We have a modified experience for viewers using ad blockers

Wikia is not accessible if you've made further modifications. Remove the custom ad blocker rule(s) and the page will load as expected.