Some vehicles in Asphalt 8: Airborne and Asphalt Nitro have speedometers that do not always display the vehicle's actual speeds. This quirk, called Speed Modification, varies from vehicle to vehicle. It shows what percentage of the displayed speed the actual speed is.
Contrary to popular belief, Speed Modification does not increase or reduce the vehicle's actual speed—it only causes the vehicle's speedometer to display a different speed from the vehicle's actual speed.
Any vehicle that is not listed on this page does not have a Speed Modification; this means that its speedometer always displays its actual speed.
Notes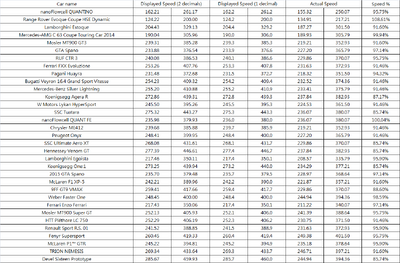 Displayed and Real top speeds are considered with Level 3/Perfect Nitro applied.
Elite vehicles displayed here are in default settings without Elite configuration.
The "+ or -" header indicates whether the vehicle is actually slower than its displayed speed