The TVR Sagaris is a 6-cylinder sports car made by TVR.
Description
Edit
The Sagaris made its debut at the MPH03 Auto Show in 2003. The pre-production model was then shown at the 2004 Birmingham Motorshow. In 2005 the production model was released for public sale at TVR dealerships around the world.
Based on the TVR T350, the Sagaris was designed with endurance racing in mind. Several design features of the production model lend themselves to TVR's intentions to use the car for such racing. The multitude of air vents, intake openings and other features on the bodywork allow the car to be driven for extended periods of time on race tracks with no modifications required for cooling and ventilation. The final production model came with several variations from the pre-production show models e.g. the vents on the wings are not cut out, different wing mirrors, location of the fuel filler and bonnet hinges. There are other subtle differences as well.
As with all modern TVRs the Sagaris ignores the European Union guideline that all new cars should be fitted with ABS and at least front airbags because Peter Wheeler believed that such devices promote overconfidence and risk the life of a driver in the event of a rollover, which TVRs are engineered to resist. It also eschews electronic driver's aids (such as traction control or electronic stability control).
The car's name comes from the Sagaris, the Greek name of a lightweight battle-axe used by the Scythians which was feared for its ability to penetrate the armor of their enemies. The car was designed by Graham Browne and Lee Hodgetts.
The TVR Sagaris was added to the game during the Multiplayer League Update. It was featured as the first Multiplayer League Reward Car, during the Starting Line Season.
The TVR Sagaris has a starting rank of 1217, a MAX rank of 1517 and a MAX + PRO rank of 1683. The TVR Sagaris receives +54 rank points from Tuning Kits.
Due to the TVR Sagaris' low starting rank and top speed upgrade percentage of 30%, it is a very good car for Multiplayer.
Performance Edit
The TVR Sagaris can be described as a continuation of the Shelby Cobra 427, also from Class B, in performance. However, the Sagaris has a higher final rank and it is also best tuned to higher ranks in Multiplayer due to its higher starting rank.
The Cobra accelerates faster than the Sagaris at the default and MAX + PRO levels. However, a Cobra with a Multiplayer tuning of 0500 5050 (B1234) has a similar acceleration to a Sagaris with a Multiplayer tuning of 0505 5050 (B1480) due to the Sagaris having nitro upgrades, which contribute to acceleration. A MAX + PRO Sagaris has worse acceleration and nitro than a MAX + PRO Cobra, but it makes up for this with a much higher raw top speed and a higher total top speed.
The Cobra and the Sagaris also share an excellent handling stat. Both cars can take light corners with ease, due to their good handling (which starts at 1.300 Gs and becomes 1.323 Gs with a 5050 in Pro Kits).
However, both cars also share an extremely poor drifting radius (the Sagaris' is slightly worse), which makes it very difficult for them to take sharp corners. Techniques such as "micro-drifting" or "drift-punching" can partially compensate for the poor drifting. However even in combination with these techniques it still takes a certain level of skill to maneuver through twisty tracks like Dubai.
The Cobra and Sagaris also share the nitro efficiency of 7/12/17. This is not the worst efficiency, but it is also not the best. Both cars rely on Extra Tanks to perform optimally in Multiplayer.
Another stat shared by the Cobra and Sagaris is the upgrade/rank percentages. Both cars have 30% of their ranks achieved from upgrades allocated to top speed and another 30% allocated to nitro. The other 40% is split evenly between acceleration and handling upgrades, making the total ratio 20/30/20/30. This allows the two cars to be Multiplayer tuned with very high speeds at low ranks.
The only real use of the TVR Sagaris is in Multiplayer. The Sagaris can easily reach pro league and if properly tuned and paired with good skill, even Champion league.
The TVR Sagaris, despite sharing most of the Cobra's stats apart from speed and rank, is not used in the same way as the Cobra in Multiplayer. For the Cobra, Multiplayer mainly involves BMW M2s, Mercedes-Benz SLK 55 AMG Special Editions (SLK SEs), and Range Rover Evoque Coupe HSE Dynamics. For the Sagaris, Multiplayer mainly involves McLaren MP4/8s and Chevrolet 2016 Camaro SS', as well as some other rarer cars, such as the BMW 3.0 CSL Hommage or Holden Coupe 60.
Overall, the Sagaris is not as competitive as the Cobra in Multiplayer because its competition is a lot stronger and much more varied. The Cobra and BMW M2 compete at similar levels in Multiplayer, both with their own advantages and disadvantages. The SLK SE is slightly better than both cars, achieving slightly/greatly better lap-times on most maps, by around 2-20 seconds, depending on the map. Despite being around 60 mph (100 km/h) faster than the other two cars, the SLK SE is not impossible to outrun (due to its very poor acceleration, drifting and handling) and it is rare enough so that the BMW M2 and Cobra can still achieve Champion League Tier 3 (2150-2299 rating) in its presence. Apart from other BMW M2s, Cobras and some rare SLK SEs, there is little competition at ranks 1200-1300 (the optimal rank zone for these three cars), with the best obscure competitors being the ED Design Torq, Evoque, Mercedes-Benz GLC Coupe, Honda Integra Type-R, Mitsubishi Eclipse, McLaren M14A, and low-tuned Camaro SS' + Sagaris'.
On the other hand, the Sagaris faces the issue of the Camaro SS, which is around 27 mph (43 km/h) faster and which is much more common than the SLK SE (it shares most performance traits but it is a slight downgrade overall). Both cars are notoriously overused in Multiplayer from ranks as low as 1300 up to ranks as high as 1500.
The competition between the Sagaris and Camaro SS will always be very fierce and the Sagaris can outrun the Camaro SS based on the same principles of the Cobra/BMW M2 being able to outrun the SLK SE. However, in general, the Camaro SS is superior to the Sagaris if the driver is skilled enough. This is a problem for the Sagaris, because, once Champion League Tier 4 (1999-2149 rating) has been reached, the only easy way to increase rating is to target other people in the same league. Of course, Camaro SS drivers who are also in Champion League will have high skill, which means that it will become much harder for the Sagaris to increase in rating past Champion League Tier 4 or even reach Champion league. Still, though, different Champion League Tiers all give the same season rewards, so the importance of reaching a rating above 2000 is not very high. Therefore, the Sagaris is still as viable for Multiplayer as the Cobra, despite being technically not able to achieve as high of a rating. Of course, the Cobra can achieve 2000 rating much more easily than the Sagaris, but it is still not too difficult for a Sagaris to achieve the same rating.
The Sagaris also faces competition from the MP4/8, which is slower by a significant amount, but which also has extremely fast acceleration and perfect stats otherwise. The Sagaris can only outrun the MP4/8 on long tracks or short tracks with more than 1 lap. The Sagaris can only outrun skilled Camaro SS drivers on short tracks with only 1 lap or on technical tracks with a maximum of 2 laps. Therefore, the best combination for outrunning both the MP4/8 and Camaro SS is short/technical tracks with 2 laps. It should be noted that Sector 8 is a very poor choice for the Sagaris owing to the infamous final curve and will result in more losses than victories. Better tracks are The Rose of the Desert w/ 2 laps, Cloud Nine w/ 2 laps, The Dragon's Den w/ 2 laps, Westminster Bridge w/ 2 laps, etc.
Some other rarer or more obscure competitors for the Sagaris include the Hommage, Aston Martin Vulcan, Holden Coupe 60, Lamborghini Estoque, SIN R1, Mercedes-AMG C 63 Coupe Touring Car 2014, Arrinera Hussarya GT, Lotus Evora Sport 410, Porsche 911 GT3 RS, Mercedes-AMG GT3, McLaren Mercedes MP4-25, BMW M2, Cobra, Evoque, GLC Coupe, and SLK SE. The SLK SE and Hommage act as buffed Camaro SS', making them very difficult to outrun. The Vulcan is also quite difficult to outrun due to all of its stats being superior to the Sagaris. The Estoque and Holden Coupe 60 are slightly worse than the Sagaris but have advantages on some maps. The SIN R1, C 63 Coupe, Hussarya GT, Evora Sport 410, 911 GT3 RS, AMG GT3, and BMW M2 are all slightly slower than the Sagaris but they have much better drifting/handling, so they can still be difficult to beat on technical tracks like Rio or Sector 8. The Evoque and GLC Coupe are generally mere annoyances for the Sagaris but they can outrun a Sagaris off-guard. Finally, the MP4-25 is generally more optimal at higher ranks and it is very similar to the MP4/8.
Multiplayer Tuning Edit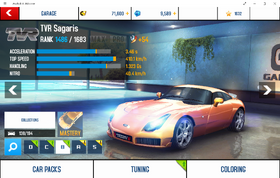 The TVR Sagaris has two very popular tunes:
0500 5050 at B1390

Speed = 270.6 mph (435.6 km/h). Acceleration is very poor with this tuning.
0505 5050 at B1480

Speed = 279.4 mph (449.9 km/h). Acceleration is similar to the Cobra's with this tuning.
Some other good tunes include:
0500 3030 at B1349 (if the player is running low on Pro Kit cards)

Speed = 256.7 mph (413.4 km/h). Acceleration is very poor with this tuning.
0505 5051 at B1486 (a slight upgrade to the B1480 tune, which doesn't change matchmaking much)

Speed = 279.7 mph (450.5 km/h). Acceleration is similar to the Cobra's with this tuning.

0505 5555 at B1563 (maximum possible speed)

Speed = 284.9 mph (458.7 km/h). Acceleration is further improved from the 1486 tune.
Notably, the Sagaris is much easier to obtain than the Cobra and Camaro SS due to being able to be purchased with
. This makes it an optimal choice for new players or players with few

and/or
.
Usage (Other) Edit
A Multiplayer tuned Sagaris at B1480 or higher is decent for Class B TLEs if the player has no other good Class B cars for TLEs.
The Sagaris rewards

150 at Mastery Challenge 10.
The Sagaris doesn't belong to any collections.
After its debut during the Multiplayer League Update, the TVR Sagaris was made available for purchase in the Garage on November 18, 2016.
The TVR Sagaris costs
900,000 or

5,950 to buy. It costs
2,007,400 to MAX and
1,251,875 to PRO.
The TVR Sagaris also uses 16 V8 Engine cards in its pro kit formulas, contrary to the fact that the car actually uses an i6 engine.
This section of an article is missing some information. Please try to add some relevant content.
This section of an article is missing some information. Please try to add some relevant content.
Ad blocker interference detected!
Wikia is a free-to-use site that makes money from advertising. We have a modified experience for viewers using ad blockers

Wikia is not accessible if you've made further modifications. Remove the custom ad blocker rule(s) and the page will load as expected.