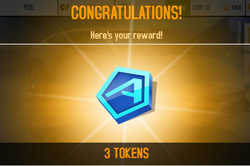 Tokens (

or
) are a measure of hard currency currently used since Asphalt 8: Airborne. Introduced in the Winter Update, they can be obtained through Events, in-game advertisements (at a rate of

2 per 15~30 second ad), in-game purchase in the form of token packs, as a Mastery Reward for certain cars, completing Daily Tasks, as a Multiplayer League level up bonus, and as a Multiplayer League points reward.
Tokens are represented as blue 3D pentagonal coins marked with an "A", the same "A" that is used in the Asphalt series logo.
Token-bought items
There are many cars that can be bought with tokens, and as of the Decals Update, many cars that were previously only available for real-life cash became available for sale as Token cars. With the Elite Cars Update, several previously credits only cars are now also purchasable with tokens.
The Decals Update also introduced purchasabale decals for cars (hence the name), many of which can be purchased with tokens.
In addition to cars, the Double Credits, Extra Tank, Absolute Armor, Nitro Recharger, and Boosted Wheels require tokens to buy.
All pro kit boxes, with the exception of the Super Racer Kit Box, are bought with tokens.
The proto keys from Research & Development can be restored for

5 - 150

.

If the main goal from a test in an R&D event is failed, the quality checks earned can be kept by spending some tokens.
Tokens can be used to unlock a Lab in R&D or Auto-Test a test, bypassing it.

Elite Cars' conditions can be instantly restored.
Enduro Double Down:

The Invites can be paid tokens to be instantly delivered.
Choosing to bank Enduro Points and continue with the Double Down bonus costs tokens. The amount charged increases the closer the player is towards the final Tier.
A failed race has a tokens option to redo the race without losing any unbanked EP or starting the challenge again from the start.
Tokens can be used to auto-pass a challenge.

Choosing to save up Multiplayer League points while keeping the risk bonus multiplier costs

100

A refill, costing between

7- 65

is available for the fuel bar in the events section. The amount to be paid is determined by the number of fuel segments to be refilled. Each segment costs

6.5

but this amount is rounded up to the nearest whole number to avoid a partial amount of tokens.
The Upgrades for several cars are purchasable with tokens as of the Lunar New Year Update.
In Championships, locations can be auto-unlocked with tokens.
Blueprint-unlockable cars can be instantly built with tokens. The price to instantly assemble, just like with R&D Proto Keys, EDD Invitations, and Championship Tires, decreases over time.
The first three Exclusive Deals are purchasable with tokens.
Token Packs
Token packs are an in-app purchase that provides the player a set amount of tokens in exchange for real money. While the price for a pack increases for a bigger payout, the larger packs are overall of more value as the player gains a larger amount for a reduced oney → tokens cost ratio. With the
Rio de Janeiro Update, each token pack will also award the player with VIP points for the VIP System.
A Tokens Pass Subscription is also available for certain players/regions and gives a total of

3,000,

600 more than a Mountain of Tokens for the price of a Hoard of Tokens. The catch is that the player has to log-in to the game everyday for a consecutive 30 times with each log-in awarding

100
Transferability with credits
There is no official conversion rate between tokens and Credits in Asphalt 8: Airborne. A token is worth
138 on average, and at most,
312. This is only an estimate as the amount of in-game tokens received for an equivalent value of credits depends largely on what you purchased.
In general, the lower the credit/token ratio of the car price is, the more economical it would be to purchase the car with credits instead of tokens. Due to the scarcity and high value of tokens to most players, it is usually a better choice to purchase item with credits and save the tokens for other uses.
Obtaining Tokens
Unlike credits, tokens are only obtainable as an Event or Car Mastery reward. Listed below are all of the cars with a car mastery tokens reward
Glitches
In the Research & Development Update, any car that was normally sold for tokens/licenses would end up selling for the same price, but in credits. This would normally happen under a weak Wi-Fi/mobile data connection. An example of this would be the McLaren P1™ GTR selling for the price of an Aston Martin DB9 Coupé (
14,500).
In the Multiplayer League Update, the Chevrolet Corvette C3's tenth Mastery Challenge was bugged, seemingly awarding

12,550.
References