The W Motors Fenyr SuperSport is a hypercar by W Motors developed as a faster, more track-focused version of the W Motors Lykan HyperSport. It is named after Fenrir, a monstrous wolf in Norse mythology.
The Fenyr used in the Asphalt games is the pre-production version, evidenced by the top-mounted dual exhausts.
Overview
| | | |
| --- | --- | --- |
| " | The earth will shake violently, trees will be uprooted, mountains will fall, and all binds will snap – Fenyr will be free. | " |
| | Adapted from Prose Edda | |
The W Motors Fenyr SuperSport is the successor to the Lykan HyperSport, unveiled at the 2015 Dubai Motor Show. The development was a partnership between W Motors and Magna Steyr. Its shape is much similar to the Lykan, only having a more aggressive, track-like appearance.
Similar to the Lykan, the Fenyr uses the 4.0-liter (3,996 cc) twin-turbocharged flat-6 engine (also equipped with an independent intercooler) supplied by RUF, only more powerful at 900 hp (671 kW) and 885 ft·lb (1200 N·m) of torque. The Fenyr is equipped with a 7-speed Porsche Doppelkupplungsgetriebe (PDK) dual-clutch automatic transmission with paddle shifting. The car is built on a tubular aluminum chassis and carbon fiber bodywork and has the exhaust pipes positioned between the taillights. The car is rear-wheel-drive and weighs only 2646 lb (1200 kg), giving it a power-to-weight ratio of 750 hp per tonne or 2.94 lb/1.33 kg per hp.
The Fenyr uses unique lightweight forged aluminum wheels with front 8.5"×20" wheels and rear 12.5"×21" wheels. Front tires are 255/35 ZR20 and rear tires 335/30 ZR21.
The Fenyr uses a unique rear wing, titled the Triptych Active Spoiler. Composed of three separate moving flaps, the Fenyr's rear wing operates using a complex electro-mechanical system that guarantees the synchronous movement of all three surfaces. The side panels deploy automatically at 50 mph (80 km/h) and the master (main) panel deploys at 75 mph (120 km/h), helping the car to keep the rear planted when driving at high speed before folding back seamlessly into the body.[1]
Expected to surpass its predecessor, the Fenyr Supersport is capable of a 0-60 mph time of 2.6 seconds as well as a high top speed exceeding 245 mph (394 km/h), which would make the Fenyr among one of the fastest production cars in the world by top speed.
Compared to the Lykan (which is expensive because of diamonds in its headlights), the Fenyr is much cheaper, at US$1.85 million. Due to the lower price, W Motors has planned to build only 25 units per year, more than the Lykan's 7 units.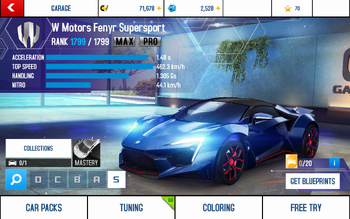 Summary
The W Motors Fenyr SuperSport was in the Rio de Janeiro Update as a high-end Class S car with the following statistics:
The W Motors in the name was erroneously dropped prior to the Multiplayer League Update, after which this issue was patched up.
Its main rivals are the McLaren P1™ GTR, Mosler Super GT, and TRION NEMESIS.
Performance
The W Motors Fenyr Supersport's performance is built on a combination of the Peugeot Onyx and Ferrari FXX Evoluzione.
The W Motors Fenyr Supersport's acceleration to its maximum total speed at MAX+PRO occurs in 4.2 seconds, making it slower in acceleration than the Lykan HyperSport due to its nitro stat. The Fenyr has a nitro stat identical to that of the Peugeot Onyx. The Fenyr, on the other hand, has a high total speed of 307.2 mph (494.7 km/h), which the game displays as 321 mph (517 km/h). The Fenyr also has its nitro efficiency rated at 7/13/17.
The biggest advantage the Fenyr has over similarly-ranked cars is its extreme handling – it has a high turning capacity due to its weight of 2646 lb (1200 kg). Because of this, its drift is extremely sharp. In fact, it has the sharpest drifting radius of any car in the game, as even with a high top speed stat of 279 mph (449 km/h), it can still drift very sharply through virtually all corners.
Official review
This is the official review of the W Motors Fenyr Supersport on the Asphalt YouTube channel, made by TheHawtDawg1 and published on August 18, 2016:
Time to reach end of Tokyo straight: 7.392s
Perfect nitro duration: 8.448s
Triple nitro duration: N/A
French Guiana lap time: 55.671s
Final verdict: "The Fenyr Supersport is a great car, but it is not the king of S Class. However, this car can be very dominant on tracks with lots of turns, including Sector 8 and Venice."
Usage
The W Motors Fenyr Supersport is very useful if the player does not have a MAX+PRO TRION NEMESIS or Devel Sixteen Prototype, but has been superseded by later cars like the Arash AF10, McLaren Mercedes MP4-25, and Porsche 918 Spyder with Weissach Package.
Although not the best car for Events, the Fenyr Supersport still performs well in events. More likely, however, the car will be placed in the top 800 due to the domination of the Apollo Intensa Emozione and 2018 McLaren X2. On short/handling-focused tracks, the Fenyr performs exceptionally well due to its sharp drifting.
In Multiplayer, with its aforementioned performance traits, the Fenyr can be competitive. Albeit not as competitive as cars such as the TRION NEMESIS, McLaren Mercedes MP4-25 or Aston Martin Vulcan, the Fenyr is still more competitive than the likes of the McLaren 675LT, McLaren P1™ GTR, and Ferrari 330 P4.
An overlooked trait of the Fenyr Supersport is its usability for Credits grinding– its 14th Car Mastery Challenge, a Classic race in Rapido Park, a short track, can earn an average of
5,800 (with a VIP Level below Level 3) in an average race time of 50 seconds (with the car at MAX+PRO). Its Season 9 race, set in Highland View, a short track, can also earn an average of
5,650 (with a VIP Level below Level 3) in the same average race time of 50 seconds (with the car at MAX+PRO). While not better than the McLaren 675LT in this aspect, both cars still share the trait of being useful for farming Credits in both Season 9 and Mastery (Challenge 14 in the former's case and Challenge 15 in the latter's case).
The Fenyr counts towards the "Top Tier" collection, which awards a total of 4 Double Credits and
1,200,000 when both versions are completed. However, this collection is extremely difficult to complete owing to its requirement of the Research & Development only BMW 3.0 CSL Hommage and Arash AF10.
Price & Availability
When available for a limited time, the Fenyr Supersport costs

14,250. Upgrades costs
3,464,150 or

19,110 while Pro Kits require
1,953,525, 23 of each Class S Part, 24 F6 Engines, 28 Mid-Techs, and 28 Advanced Techs.
As of the Car Blueprints Update, the Fenyr Supersport can be obtained by assembling the car after collecting 20 Legendary W Motors Fenyr Supersport BPs. Assembly takes 18 hours to complete but can be skipped for up to 

500.
The W Motors Fenyr Supersport was available as a limited-time offer between October 11-14 and December 23-26, 2016.
Research & Development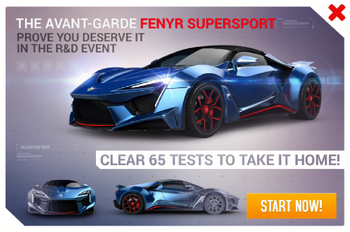 Main article: Research & Development/W Motors Fenyr Supersport
The W Motors Fenyr Supersport's Research & Development event was held on August 9, 2016 as the 12th R&D event after the Aston Martin One-77's EDD event. It has a total of 65 Tests spanning 4 Labs with a time limit of 15 days to complete.
The event was subsequently revived on July 12, 2018 as part of the Asphalt Moments Series.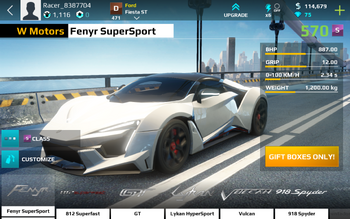 This section of an article is missing some information. Please try to add some relevant content.
The W Motors Fenyr Supersport appears as a high-end Class S car with the following statistics:
Stock rank: 3,345 (60 BPs)
1* rank: 3,492
2* rank:
3* rank:
4* rank:
5* rank:
6* rank:
This section of an article is missing some information. Please try to add some relevant content.
References