The W Motors Lykan HyperSport is a limited production hypercar by W Motors, a United Arab Emirates-based exotic car manufacturer headquarted in Dubai.
Description
Edit
The Lykan Hypersport is a Lebanese limited production hypercar by W Motors, a United Arab Emirates-based company, founded in 2012 in Lebanon with the collaboration of Lebanese, French and Italian engineers. It is the first Middle Eastern supercar.
The Lykan HyperSport is powered by a 3.7-liter (3746cc) twin-turbocharged flat-six engine developed by RUF, producing 780 hp (582 kW) and 708 ft·lb (960 N·m) of torque. The car is claimed to have a top speed of 245 mph (395 km/h) and accelerate from 0 to 100 km/h (0 to 62 mph) in 2.8 seconds. In June 2015, the Abu Dhabi police force purchased a Lykan HyperSport.
At US$3.4 million, the Lykan HyperSport is the third most expensive car in the world, behind the Lamborghini Veneno Roadster (US$4.6 mil) and Maybach Excelero (US$8 mil). The Lykan HyperSport is also the first car to feature diamonds and jewels in its headlights, with 420 15-carat diamonds in titanium LED blades, although buyers have a selection of rubies, diamonds, yellow diamonds, and sapphires to be integrated into the vehicle's headlights at purchase based on the color choice. The car also utilizes a holographic display system on the center console with interactive motion features, as well as gold stitching on the seats.
The pre-production model made its debut in the 2013 Qatar Motor Show. W Motors limited its production to only 7 units.
In late 2015, the Lykan's successor, the W Motors Fenyr Supersport, was revealed at the 2015 Dubai Motor Show.
The W Motors Lykan HyperSport was added in the Daily Bonus Update and is the first Class S car added to the game via time release. It is a low-mid-end Class S car, with a starting rank of 1518, a MAX rank of 1655, and a MAX+PRO rank of 1723. The Lykan gains +33 rank points through Tuning Kits and has a cosmetic Speed Modification of 91.46%.
It mainly rivals the Mercedes-AMG GT3, Mercedes-Benz Silver Lightning, Lamborghini Estoque, Holden Coupe 60, and SSC Tuatara.
Performance Edit
The W Motors Lykan HyperSport can be described as an excellent all-rounder, complete with superb acceleration, amazing nitro power and nitro efficiency (6/12/16), responsive and grippy handling and drifting, and decent top speed. With these stats combined, the Lykan is capable of beating the Mercedes-Benz Silver Lightning, Lamborghini Estoque, Koenigsegg Agera R, and SSC Tuatara and many other cars, with the latter on most tracks.
When compared to the Holden Coupe 60 and Mercedes-AMG GT3, both cars have a slightly higher total speed than the Lykan, but the Lykan is still capable of challenging them due to its better overall performance—both the Holden and AMG GT3 suffer from poor nitro efficiency, and the Holden also has slightly worse acceleration, while the AMG GT3's top speed is lower.
The W Motors Lykan HyperSport is widely considered to be one of the best early Class S cars due to its great all-round performance and cheap upgrade costs. In comparison, its main rival, the SSC Tuatara, has a total buying and MAX cost of
3,278,000 (950,000+2,328,000) for extremely similar performance. The Lykan has the additional benefit as a Credits grinder with its Mastery Challenge 15 awarding
5,950 in around 49 seconds on Dubai. A fully upgraded Lykan is also a good choice for multiplayer matches if handled correctly, but is not the best Multiplayer car.
Unusually, the W Motors Lykan HyperSport has two exclusive races in Career Mode: in Season 4, a Classic race in Dragon's Den; and in Season 8, a Classic race in The Great Wall.
The W Motors Lykan HyperSport costs
550,000 to buy and
417,500 to MAX. Pro Kits require
1,057,013, as well as 12 of each Class S part and 16 F6 Engine, 16 Mid-Tech and 20 Advanced Tech cards.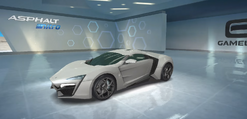 The W Motors Lykan HyperSport appears in Asphalt Nitro as a Class S car, with its performance stats exactly identical to its Asphalt 8: Airborne rendition. The Lykan is now only available by reaching VIP Level 4 and buying the car with real money.
The Lykan HyperSport appears in Asphalt Overdrive as a Turf 5 car.
This section of an article is missing some information. Please try to add some relevant content.